FL2CT

RALLY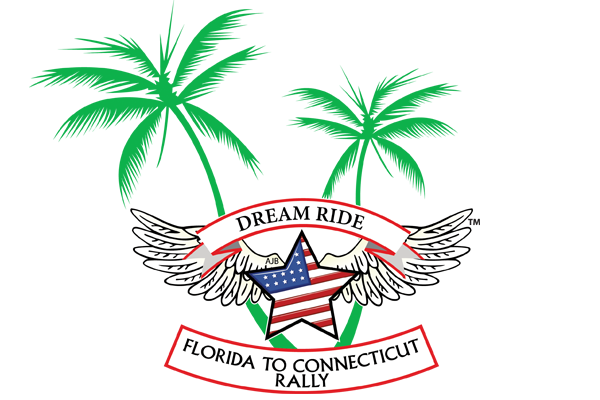 July 28th - August 3, 2018



Palm Beach Gardens, FL to Farmington, CT

On Saturday, July 28th the Florida to Connecticut Dream Ride Rally 2017 will depart PGA National Resort & Spa, Palm Beach Gardens, for a seven-day trip to Connecticut!

This charity ride benefiting Special Olympics is a fully supported 2000-mile excursion from Florida to Connecticut. We invite you to come and celebrate the achievements of Special Olympics and enjoy some of the most highly celebrated roads and spectacular scenery nature has to offer. The ride will not only give you an appreciation of the beauty of the open road but will leave you with an unbelievable feeling of giving back to those in need. Join us as we meet and greet with Special Olympics athletes along the way. See the athletes in action, as they welcome the rally riders with open arms, lots of hugs and smiles.

Starting in Florida we will head north into Georgia and then into the North Georgia Mountains traveling through the Chattahoochee National Forest and riding a portion of the "Gauntlet, 133 miles of smiles" before stopping overnight at Copperhead Lodge, an exclusive resort that caters to motorcycle enthusiasts. We continue to make our way through North Carolina for a special lunch stop sponsored by "friends of Dream Ride". A private concert by a world renown bluegrass band will take place during the lunch stop as well as a once in a lifetime viewing of the Total Solar Eclipse! After lunch, we will continue to our next stop, "Little Switzerland" and the famed Switzerland Inn, located right off the Blue Ridge Parkway. You will experience firsthand why the area is called "Little Switzerland". The sweeping panoramic views of peaks and deep valleys resemble those of the foothills of the Swiss Alps. We head out the next day and our lunch stop will be something no NASCAR fan will want to miss, a chance to meet Joey Logano. Lunch will be hosted by Joey Logano Foundation and Team Penske. After a private tour and lunch at the Penske facility we make our way up to West Virginia's Fairfield Inn & Suites in Princeton, WV for our overnight. As we continue on our journey we will ride the Highland Scenic Highway, a beautiful corridor through the Monongahela National Forest in West Virginia extending over 43 miles and rising from an elevation of 2,300 feet to over 4,500 feet. This National Forest Scenic Byway is the highest major roadway in West Virginia. And that's not all! Sit back as we travel through Pennsylvania into Connecticut for the Dream Ride Experience Weekend. Upon arrival in Connecticut, riders will join participants from all over the world for a weekend to remember. This weekend offers something for everyone so gather your friends and family and bring your appetite and join thousands of participants as they enjoy Dream Ride 2017.

Mark your calendars, save the date and ride with us as we travel from sunny Florida to charming Connecticut for Dream Ride 2017.

For more information, contact Karen DeAngelis at kdeangelis@bozzutos.com or 203-250-5112.

*Please note: this ride is for experienced riders. Also, the ride is rain or shine!

Important Message: Please read all mandatory, required information regarding the FL2CT Rally. Click here to read guidelines.

*Limited spaces available.
FL2CT Itinerary:
8/19 - PGA National Resort & Spa to Hilton Garden Inn, Tifton, GA
8/20 - Hilton Garden Inn, Tifton, GA to Copperhead Lodge, Blairsville, GA
8/21 - Copperhead Lodge, Blairsville, GA to Switzerland Inn, Spruce Pine, NC
8/22 - Switzerland Inn, Spruce Pine, NC to Fairfield Inn & Suites, Princeton, WV
8/23 - Fairfield Inn & Suites, Princeton, WV to Smoke Hole Resort, Cabins, WV
8/24 - Smoke Hole Resort, Cabins, WV to Hampton Inn & Suites, Hazleton, PA
8/25 - Hampton Inn & Suites, Hazleton, PA to Hartford Marriott Farmington, Farmington, CT